The growth rate of WooCommerce cannot be measured yet. With the completion of every milestone, WooCommerce is expanding its territory and creating a huge demand among business owners. This eCommerce platform has shown phenomenal growth of 452% over the last 12 months and this percentage is increasing rapidly as each day passes by.
This huge demand is because WooCommerce is coupled with the most popular website creating a tool – WordPress. This collaboration has helped many users to create some amazing online stores and catalog sites. Moreover, they can add some great WordPress plugins to enhance their store functionalities in order to achieve better sales.
As an online store grows bigger and bigger, it becomes really important for the owner to know how the store is performing in the market. Monitoring can help them in many ways such as planning budget, tracking various orders, observing customer's buying patterns, etc.
With proper WooCommerce monitoring tools, you can efficiently track your store sales and performance. This article will help you find the best ways to monitor your WooCommerce store and will also give you some insights into some of the tools available to do that.
Why do you need to monitor your online store?
As the owner of a successful business, you would like to get more and more customers every day. Getting more customers will not only help you generate huge sales, but it will also create a bigger customer base. But, as soon as your business starts to grow bigger and more customers pitch in, it becomes fairly difficult to keep track of your store records. Tracking becomes even more complex when you own a WooCommerce store because of the bigger audience and exposure to the online market.
Moreover, any unexpected disruption in the business performance can lead to loss of revenue and productivity in your store. This irregularity can even damage your brand reputation and thus, loss of customer loyalty.
But, if you monitor your store from time-to-time, you can avoid many such issues and problems. It will help you in realizing the product demand among the customers. For example, you can easily check which product is purchased more by the customers and how does it affect your store sales. And accordingly, you can plan your inventory and maintain your budget to an optimum level.
With store monitoring, you can also track the customer's activity and their buying patterns. For example, there are always some customers that are better contributors to your overall sales. Identifying such customers could be very helpful for your business development strategy. By tracking their activity, you can sort out the patterns and gain valuable insights on their behavior and conversions.
Things you need to monitor on your WooCommerce store
Without knowing what to monitor will result in an incomplete analysis of your store. You have to look out for some parameters that directly or indirectly affect your store efficiency. Some of these parameters are listed below –
Store traffic
One of the factors that will affect your store sales is website traffic. Keeping an eye on the incoming visitors on your WooCommerce store will help you in many ways. It is important to know when people prefer to come to your store, what products and pages they browse, how long they stay in your store and how many of those visitors are converting into real customers.
"Monitoring your store can help you make better decisions about how to allocate your precious time"
Monitoring traffic can also help you see what is working well for your store. For example, there is a chance your customers might not be interested in your newsletters or social media updates. So, spending your precious time on these things might not be very helpful in such a matter. Instead, you can focus on improving customer experience.
One of the possible solutions is using Google Analytics. But unfortunately, it is not simple to use it. Majority of its users find it hard to utilize all the features that Google Analytics provides.
So, the next solution that can be very helpful is using the WordPress Maintenance Reports. This is an amazing plugin that includes Google Analytics traffic data of your store. It is very easy to use and the integration process to your WooCommerce is really simple. You are allowed to set custom notifications for important details that you want to pay attention to.
Store sales
Another important area where you need to divert your attention is sales behavior. This parameter determines the rate of the flow of money in your business. It also helps you analyze the performance of your WooCommerce store.
However, you might want to monitor your sales for other reasons too. For example, you might want to check whether the new marketing strategy is working well for your store. Or you might want to know the reason behind a sudden drop in sales. You can do all this by monitoring your store sales.
There are many possible solutions to this parameter. Let's check out some of them,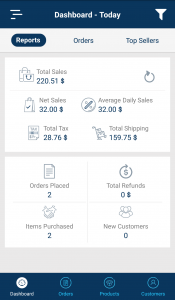 Use StorePep – StorePep is a native WooCommerce mobile app that has been designed to monitor your WooCommerce store. It will give you timely reports on the necessary sales parameters like total sales, average daily sales, total refunds, etc.
You can also check out the status of all the orders from the app. For example, if you want to check out some of the pending orders from last week, the app can show you those orders. StorePep has a Orders tab that contains arranged lists of orders, based on their order status like Pending orders, Cancelled orders, etc. You can check out those pending orders by tapping on the Pending button.
Use HelloSales plugin –  It is an amazing plugin by iThemes. It displays your WooCommerce store reports in a very well-organized Dashboard. This Dashboard will show you some quick overview of your store sales and orders. It also has a unique section to show you the top customers.
Moreover, you get an app for the iOS platform too. So, you can easily check out the reports on your phone whenever you're not next to your computer.
Customer behavior
It is very hard to tell what your customers are thinking, but it is easy to track their buying behavior and interests. It is necessary to understand these behaviors as it will help your business in many ways. For example, there are some customers who contribute more to your store sales because they buy your products in bulk. It is important to identify these customers and have their detail with you, so, you can refer them in the future.
Monitoring and analyzing customer behavior can help you plan your marketing strategies better. StorePep is the right tool to help you with that. It has an option in the bottom navigation bar called Customers. By tapping this button, you can see a list of all the customers along with their contact info.
This app also lets you track customer's recent orders and the total purchases made by them. This feature will help the owners to find out the products which generate more interest among customers.
Uptime
Customers hate when the websites are down or not working. It simply drives them away. And having your WooCommerce website down is a bad thing for you too. You won't be making any revenue during that time, which is harmful to you and your store reputation.
So, you'd need a system that can notify you about this issue quickly. This way you can work on the issue and bring your website back online. Thankfully, there are some tools to help you in such situations.
Uptime Robot is a very nice tool that notifies you whenever your WooCommerce store is down. It informs you about it via email or text message which is very convenient for the store owners. Similar to Uptime Robot, Pingdom alerts you whenever your website goes down.
If you have multiple WooCommerce websites, then you should go for ithemes sync. You will receive an email whenever your website is down.
Security
It is very important to ensure the website's security. There is so many personal and public information stored on the website. The stakes are higher for an eCommerce store as there's money on the line. Taking some important precautions can help in such situations. Thus, it becomes important to monitor your WooCommerce store for security issues. Moreover, you would need a dedicated security system to ensure your store safety.
It is better to notice any abnormal behavior or problems with your website as it can help you take action before any damage is done.
There are some security monitoring tools that can help you protect your WooCommerce website. One of the best tools is Sucuri. This tool will not only protect your online store, but it will also protect from any attack. It will also alert you about any security issues in your store. You can check it out here to know more about more features.
Page Speed
A responsive website gives a good impression on the customers who visit it. The site speed matters a lot, especially for an eCommerce website. It is also important to understand that a slow website will harm your store reputation.
So, you should monitor your WooCommerce store speed in order to avoid that. It is equally important to keep an eye on unpredicted slowdowns too. Moreover, you should not quickly update your store as the new changes might not work properly. To avoid that, get a review about that update before installing it to your store.
Simple tools like Google Page Speed and Pingdom are very helpful to check your website speed. But, you should make sure to test your store speed time-to-time. You can check out some of the tips and tricks that might help you to manage the speed of your website.
Another trick to increase the site speed is by optimizing the images and other media contents on your store. You can check out this link to see some WooCommerce plugins that can help you with that.
Bonus tips
There are times when customers visit your store more than usual days. Usually, these days come during holidays or in a festive season. The sales are higher during this period which is a very good thing for your store and bank balance. During these occasional days, it is important to make sure that your store is working properly and the stocks are up-to-date. Because, if there are some issues with your website or your products, it will directly affect your sales. Customers might not come back if they find this issue too annoying. Thus, constant monitoring becomes a necessity in such situations to protect your brand reputation.
Another problem that many online store owners face is the 'Out of Stock' situation. This issue is a deal breaker for your business. This situation usually leads to the loss in sales and store reputation. Updating your stocks time-to-time might solve this problem, but only partially. This is because some products might not need a stock update when compared to other high demanding products. These grossing products usually go out of stock quickly and thus, it needs to update first, and there is no need to update not so urgent products right away.
Conclusion
The rate at which e-market is getting into our lives, predicting its future is becoming tougher and tougher to crack. This is because of the introduction of several new buying trends and demands by the customers. Their shopping patterns are changing every second which is making them shift to another dimension of the market that is constantly growing like a wildfire.
This growth has compelled the eCommerce businesses to add extra functionalities in order to stay strong. If you want your business to stay ahead of your competitors in every aspect, you need to find out some innovative tricks to help you with it.
It doesn't matter whether your business is small or big, you have to prepare yourself to win the marketing strategy in this cut-throat competition. Moreover, you should be able to retain both old and new customers to expand your business in all directions.
We hope this article would have helped you in some way. Let us know in the comment section below or do contact us.
Thanks!