The portability to easily update orders and manage your WooCommerce store is a necessity for a successful online business. It is important to quickly manage the orders as soon as they come in, even you are away from your computer. A WooCommerce mobile app will help business owners lead their customers to delight by completing the order without any delay.
StorePep is a native WooCommerce app that is designed to manage and monitor your store on-the-go. It will help store owners maximize their productivity and efficiency by fulfilling orders on time. This app could be an ultimate tool to manage and keep track of your inventory as the number of customers grows.
This article will give you an overview of how StorePep will help your business prosper. But first, let's look into some parameters that a native WooCommerce mobile app should have,
Monitoring –

As a business owner, it is very important for you to monitor your WooCommerce store all the time. So, an app that can help you monitor your store by providing you enough details, should be the right choice.

Managing –

Another important aspect of a native WooCommerce mobile app should be the ability to manage your store better. You should be able to manage your orders, stocks, and customers, even if you're away from your computer.

Get Real-time alerts –

It is true that customer satisfaction is really important in any business. You need to quickly fulfill the orders to ensure it reaches the customers on-time. An app that alerts you on every single update like order status change and stock status can help you in such scenarios.

User Interface –

The user interface of the WooCommerce mobile app should be adequately informative to its user. However, it should not look too busy with all the numbers and parameters. Users should look out for apps that are easier to use in their day-to-day life.

Ease of installation –

Many users might find it difficult to integrate a plugin into their store. So, users should choose an app which is easier to install and should not give you problems later.
With the above parameters in mind, let's dive into the managing features of StorePep and see how it can benefit your WooCommerce store.
StorePep provides a list of benefits to its users compared to other apps available in the market. It helps you to:
Manage shipping efficiently
Shipping a product can be quite a challenge for some online business owners. They understand that customers want the ordering process to be simple and the shipping process to be fast. So, an app with an order management system that is fast and reliable, can prove to be significantly helpful in such situations. It will not only help you efficiently manage your store but also helps you do all that without reaching out for your computer – StorePep has features that are custom made to help you ship orders efficiently.
With StorePep, as soon as a product is successfully delivered to the customer, you can change the order status of that order saying 'completed'. StorePep will inform you about this order by the push notification feature. By tapping on this notification, you will directly go to that order on the app. Then, just tap on the drop-down menu and change the status to Completed and then tap on Update. This will change the status of the order in real-time.
You can follow similar steps to update the status based on the order's live status too.
Tracking your inventory
One of the most common challenges that business owners face is tracking their inventory. As the business grows bigger and bigger, keeping up with the inventory status becomes troublesome for them. This usually happens when the store owners are focused on something else like releasing a new product or advertising some other product, or simply they don't have the time to check their store inventory. Whatever may be the case, it is really important for store owners to maintain their stocks. This is because having too many out of stock products on the store can result in losing customers and damaging the store's reputation.
A combination of real-time alerts and in-app stock update feature can solve this problem. As soon as the stock of an item is either low or empty, the app will notify you with an alert saying that the item is out of stock or low in stock, depending on its status. Let's see a real-life example to understand this feature better:
Say, for some reason, a particular product was in high demand, and eventually, it went out of stock within its first few days. Now, as soon as you get your stocks back, you would want to update the status promptly to bring the product back to your store. This is where StorePep can help you. You can change the Stock status to In Stock right from the phone. This is one feature that is highly beneficial to many business owners.
The app also lets you update the stock quantity and you can edit the sale price, regular price, shipping class, etc.
Managing customers and editing product description
It is a lot harder to sell your product to a new customer as it does to sell to an existing customer. A strong customer management and analysis can help you improve your customer experience which in turn, might increase overall sales of your store. So, it is really important to understand and figure out these important points,
Occasional customers

Major revenue contributors

Bulk buyers

Products in demand

Customer shipping location
Occasional customers are people who find your WooCommerce store while searching for a particular product. They might have found you by some referral links, suggestions, promoted ads, etc. These customers might be interested in your store only because of that product. There is a high chance that they might not come back.
However, major revenue contributors and bulk buyers have a higher chance to stay along or are dependent on your store. They usually contribute to the majority sales on your store.
Understanding your customer demands might help you figure out the products that are in high demand and products that are not. This can help you plan your product inventory accordingly.
StorePep goes a step further by giving you the access to the in-depth customer details. The details include information like their Last order, Total spent, Total orders, etc. The app also shows their contact information. These details will help you sort out important customers which might be helpful for future references.
In addition to the customer contact information, StorePep also lets you navigate to the customer shipping address. So, if you tap on the navigation button on the bottom-left corner of the Customer Details page, the app will open Google Maps and point to the customer address. This one of the most amazing features that other WooCommerce mobile apps does not offer – it gives you a better idea of the shipping area.
Installation
It is fairly easy to install StorePep and integrate it with your WooCommerce store. You need to download the plugin from WordPress website. Then install it to your WooCommerce like any other plugin. Now to connect StorePep to your store, you will need to API credentials from your WooCommerce API settings. Enter the API keys on the settings page into the app while signing in. (You can also scan the QR code next to the API keys to sign in without manually entering the APIs).
Afterwards, the app automatically syncs all your WooCommerce store data to your phone and downloads them in the app. Now, StorePep is ready to use.
Easy!
Other Standout features
There are quite a few features that are unique to this app, let's see a few:
Monitor your WooCommerce store
As an online store owner, checking your store performance time-to-time is really important. It is always good to notice any disturbance in the store efficiency beforehand. This is because these disturbances might decrease overall productivity on your store and possibly damage brand reputation. To prevent this, WooCommerce store owners can track their sales and orders, in order to estimate product demand among customers and help plan their inventory to keep the budget on track.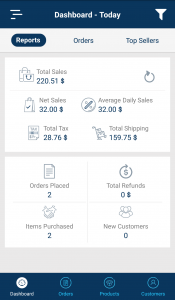 With StorePep, monitoring sales and orders of your WooCommerce store is effortless. It has been designed to give timely sales reports to the owners. The report contains parameters like store's total sales, average daily sales, total refunds, etc. The app displays these reports on the well-organized Dashboard.
Moreover, you can also track your orders with StorePep. It has a separate tab for orders that displays arranged lists of orders based on different order status like Pending orders, Cancelled orders, Refunded orders, etc.
The app also lets you find the best-selling products in your store. It has a dedicated tab for it, called the Top-Sellers.  
Get Real-time alerts on your phone
As an online business owner, you should never miss your deadlines. Delivering the products to your customer on-time is good for your store and its reputation. So, initiating the shipping process as soon as a new order is placed on your WooCommerce store is a boon for your store sales.
StorePep will help you in this case. It has push notification which will give you alerts in real-time. It will inform you about new orders instantly. You can tap on this notification to see the order details and act accordingly. Moreover, you will get a notification if the status of an order changes. So, if any of your orders were canceled by the customer, it will notify you about it instantly. You can further take the necessary steps to refund the order amount.
Say, if one item in your store is out of stock and you could not check your inventory on-time. A quick notification about this issue would be a useful thing, and StorePep does that too. It will alert you as soon as the stocks are low or are out of stock. Then, you can take the required steps to update the stocks back. This notification will also contain information like the order amount, payment method, order status, etc.
Future expectations
StorePep has been designed so well, that every feature works together to perform various tasks. This is because it is a native WooCommerce mobile app. It takes complete advantage of all the features of your phone to ensure better performance. And it will continue to have an edge on performance when compared to other non-native apps.
With the current pace of growth in WooCommerce, the demand for newer technologies like automation might come into effect. This feature, if introduced, will change the way you manage your store. The app with this feature will be capable of managing everything on its own, like your orders, stocks, revenue tracking, etc. It will generate reports based on the analysis of these parameters.
Another interesting scenario to expect would be the inclusion of IOT (Internet of Things) into WooCommerce mobile apps. This will combine both your online and physical store in an organized ecosystem. With IOT in effect, you will be able to update your stocks from your app without physically working for it. Moreover, you may be able to initiate the shipping from the phone itself. The app will inform the delivery department to load the shipment and deliver it to the given address. Features in this level will give you spare time to plan out other business strategies.
Concluding thoughts…
Numerous possibilities are going to emerge the for easier management of a WooCommerce store. These possibilities are the combination of factors that directly affect your online business. Some of these factors are planning, budget, store reputation, product demand, etc.
But one factor that is the key aspect in determining how a store is managed is a deadline. Missing a deadline creates a bad impression for your company. However, even if you complete the deadline on-time, it doesn't really mean that you should compromise on the quality of the product. So, by taking precautions and planning ahead, you can ensure the on-time delivery of quality products.
StorePep will take you one step closer to achieving quick deliveries and better store management.
We hope this article has helped you in some way. Let us know if you have a query or if we missed something.
Thanks!