StorePep is the one-stop shipping solution that the world of eCommerce was waiting for. StorePep revolutionizes your shipping experience by consolidating your order data and streamlining your workflow through a single unified platform.
With StorePep, you can provide real-time shipping rates to your customers at checkout, effortlessly generate and print shipping labels and manifests in bulk, and live track all your order shipments.
Before we can get started, however, we need to make sure that your Shopify store is connected to your StorePep account.
Setting up your StorePep account:
This step involves establishing a connection between your StorePep and Shopify accounts. From your Shopify Dashboard, click on 'Apps' and select 'Manage Private apps'.
Click on the 'Create Private App' option. Name the app, provide your email ID, and provide 'Read and Write' permissions for all fields in the Admin API section.
Once you click on 'Save', your private app will have been created and you will get a success message along with an API Key, Shared Secret, and Password that are exclusive to this app. Keep this information handy as you will be needing it to connect your StorePep account to your Shopify store.
Since by now, your StorePep account has been created and verified, hop onto StorePep.com and login to your account. Click on the 'Settings' icon on the bottom left corner of the screen and click on the '+' sign next to the 'Store' option. You will get a number of store options including Shopify and Woocommerce to integrate into your StorePep account.
Clicking on Shopify takes you to the actual Shopify configuration module where you need to provide the above-mentioned parameters for your Shopify store integration: Store URL, API Key, Password, and Shared Secret. In the Store URL field, you will have to provide your Shopify Store link.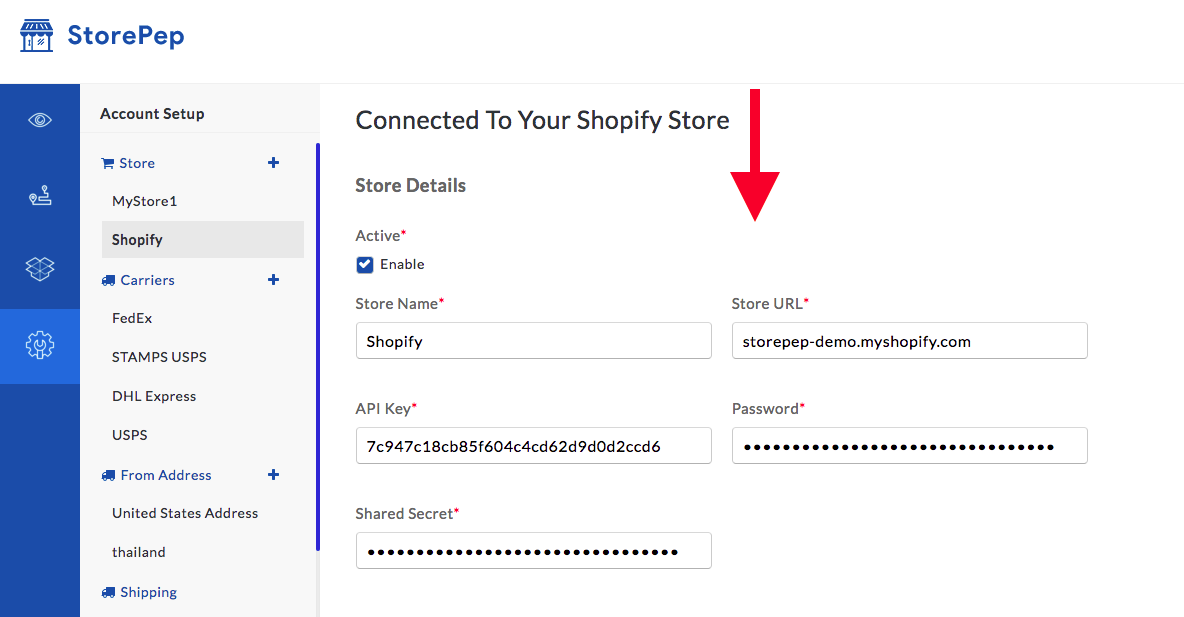 Copy and paste these details on StorePep and click on 'connect'. Congratulations! Your Shopify – StorePep connection has been successfully established. You can go ahead and start shipping out those orders now!
In case you still have questions, fill out our contact form and our specially trained agents will get in touch with you within 24 hours.